China-initiated AIIB seeks consensus in collective decision-making among 93 members
http://www.globaltimes.cn/content/1135844.shtml
By Zhang Dan and Bai Yunyi Source:Global Times Published: 2019/1/15 18:16:010
---
Editor's note:
January 16 marks the third anniversary of the Asian Infrastructure Investment Bank's (AIIB) founding.
Global Times reporters Zhang Dan and Bai Yunyi (GT) recently interviewed Joachim von Amsberg (von Amsberg), vice president specializing in policy and strategy of the Beijing-based AIIB, about AIIB's achievements, China's role in AIIB and the young bank's future priorities.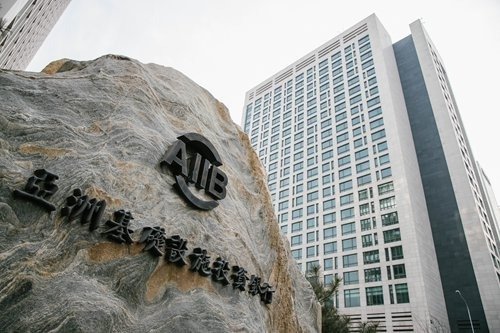 The headquarters of Asian Infrastructure Investment Bank in Beijing Photo: Li Hao/GT
GT: What made you decide to work for AIIB after working for the World Bank for many years? Do you think you have achieved what you wanted three years ago?


von Amsberg: I've devoted all my career to development and development finance. When AIIB was created, I was offered the opportunity to help set up this new multilateral development bank (MDB). I was very excited and I still am very excited, because it offers me an opportunity to bring my experience to a start-up situation where we are creating a new bank that learns from all the rich experience of existing MDBs.
In addition, I'm a great believer in multilateralism and multilateral finance. The creation of a new institution allows us to reinvigorate, modernize and bring new ideas to multilateral development finance, which is fit for the 21st Century.
I think we are on our way to achieving our goal and we're on a very good track. Firstly, I think the basic structures are now mostly in place. We have the policies and many strategies in place, establishing very firmly the multilateral governance of AIIB. We have the core staff in place, and we're working on so many tasks.
So far, we have invested $7.5 billion in 35 different projects. One project I want to mention is our loans to 11 private companies that are building solar power plants in the desert in southern Egypt. The project was co-financed by the International Finance Corporation and other lenders. I think that's a great project which shows the scaling up of clean energy delivered to people in Egypt and the involvement of private finance in infrastructure.
The second pillar of AIIB is the project standards and policies, which are high quality projects and high project standards on environmental issues, social issues, governance issues and anti-corruption, but also technical, financial and economic standards, to make sure that AIIB finances high-quality projects that achieve the objective of serving the people in the countries where we are investing.
GT: Could you give us some explanation about AIIB's anti-corruption policy?
von Amsberg: Corruption is one of those practices that we prohibit and don't permit, so the first step is prevention. We achieved prevention through information sharing and through a procurement process, which means there's competition between different companies for each contract.
We have an independent unit in AIIB, with a hotline, where anybody can raise concerns about something they learned about possible corruption in AIIB financed projects. That unit is independent of management so that people can make anonymous complaints. The unit will investigate the concerns and determine whether or not there has been any possible corruption in the project.
If there is corruption, or corruption is found, we have a sanctions mechanism that has been practiced for several decades by other MDBs. If companies, in particular, are found to have participated in corruption, they can be sanctioned by us and be put on a debarment list that applies to all MDBs. Hence, it's a huge threat to companies if they participate in corruption because they cannot compete for any contract or financing from any MDB.
And we are applying the debarment lists of other banks too. So if the company has been found to commit corruption in a World Bank finance contract, it is not eligible to bid for an AIIB finance contract.


Free from political influence
GT: Making the best possible loan decisions free from political bias is another challenge. In your opinion, do you think AIIB has avoided this trap of political influence?
von Amsberg: Because we are multilateral institution, we don't have one government as an owner. We have 57 founding members, and now we have 93 approved members worldwide. Decisions have to be made by these collective members together. It means it can never be dominated by a single country.


We have a mandate and a mechanism to make sure we act in the collective interest of our members. And that's working very well so far. Therefore, governments are brought together in a multilateral framework, which means that management actually can make technical decisions.
India is a perfect example of the beauty of multilateral finance, because whatever the bilateral relations between China and India are, they have to work together in a multilateral organization. The Indian government has presented many good projects to us, and the needs for financing are so large. This type of cooperation exactly illustrates my point about how effective multilateral development finance can be in insulating financing decisions from bilateral political issues. As a result, our decisions are made based on technical criteria, project quality, and financing needs, instead of bilateral relations and political relations between individual countries.
GT: AIIB is considered the first China-led multilateral financial institution. How do you evaluate China's role in AIIB over the past three years?
von Amsberg: I think the creation of AIIB has demonstrated that an emerging country, China, can take the lead in establishing a truly multilateral organization.
We felt very strong support from China for the creation and the running of this bank from the first day. Very importantly, China also, from the first day, has respected the multilateral nature of AIIB, and that has been critical for establishing the trust of the other member countries.
China fully understands that AIIB is not a Chinese bank. It is a multilateral bank. That means decisions are made not by China, but by the collective of members. And because China believes in that concept, it has been a very responsible leading shareholder that has allowed us to become a trusted multilateral organization.
GT: How do you vote on an important decision, such as an important loan?
von Amsberg: All decisions are made by consensus rather than by voting.
We have very clear rules about who has how many voting rights. It's clearly established. But in practice, we always seek to have a very broad consensus in our decisions – not unanimity, but broad consensus – meaning that a very broad number of members or directors support any decision that is critically important for trust in an MDB.
And that's the practice in the World Bank, as well as other development banks. It has already been the practice in AIIB, which shows the non-political nature of the organization, because we act by very strong support from broad consensus among our membership.
Future priorities
GT: What are AIIB's top priorities or plans for the next three or five years?
von Amsberg: We've set three overarching priorities we want to scale up.
The first one is sustainable infrastructure. That requires more financing for renewable energy, sustainable transport systems, and sustainable cities to help our clients implement their commitments under the Paris Agreement and deal with climate change and other environmental issues.
The second priority is scaling up cross-border infrastructure. We have seen huge potential to increase connectivity across Asia, but also beyond Asia. This is about transport connectivity to facilitate trade, but it's also energy connectivity. There's big potential to connect countries, with the transmission lines that allow a larger share of energy to be generated from renewable energy.
The third one is mobilization of private capital. While we will scale up our financing, it will still remain modest compared to the need. Hence, we always ask how we can bring private capital into our projects. Days ago, we announced a new facility that we have approved for financing of Environmental, Social and Governance (ESG) Framework rated bond infrastructure with $500 million in investment. And that is meant to scale up the market for bond financing for sustainable infrastructure.
Are AIIB's projects facing any difficulties or challenges?
von Amsberg: In almost any project, we may sometimes have delays because of the procurement of services. It takes longer than expected to actually contract companies or have the bidding documents all in place, or we have complaints from local citizens. For example, the power lines go through their front yard and the land hasn't been properly restored.
This is part of every project. What is really important is that the project has mechanisms to address those concerns. So we require every AIIB financed project to abide by what we call the grievance mechanism. For instance, the power company in Bangladesh has to have in place a mechanism through which people can complain if something goes wrong. If the power line disrupts their front yard they can call to make a complaint. That's part of every AIIB project and a part of high-quality project standards. If problems emerge, there is a quick solution and the project achieves its objectives, and any side effects that could be negative are addressed.
Because the size and scale of our operations are still very modest compared to the huge demand for infrastructure finance, scaling up this bank to make a dent in the huge needs of our members is still a task that will take many more years.
Based on your experience in AIIB, how do you see the possibility of more multilateral banks or institutions led by developing countries?
von Amsberg: I think AIIB has set a good precedent for a multilateral institution that has been initiated by an emerging country, but I don't think we are necessarily seeking the proliferation of more and more multilateral institutions. Instead, we need an institutional fabric that can address all the different international challenges that have arisen.
The world needs strong multilateralism. The world has more and more challenges that cross borders, such as climate change, trade and financial interdependence between countries. The nature of the challenges we're tackling is becoming more and more international.
That's why we need strong multilateral institutions, because these issues can only be tackled at the multilateral level, not at the individual country level or the bilateral level. That's what we hope we can contribute.